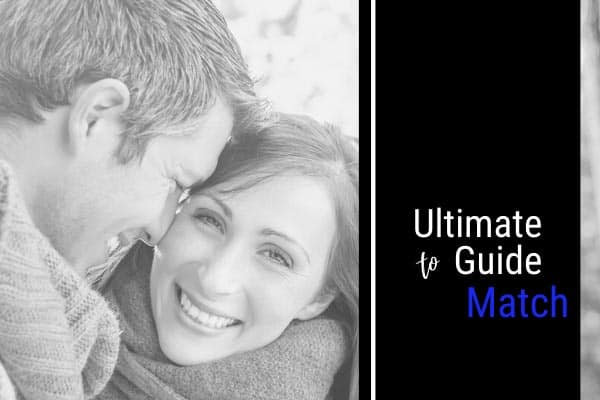 Match is a dating site for people looking to find a long-term relationship, so your profile better stand up to that kind of scrutiny.
This Match.com strategy guide is packed with the expert advice you need to be successful on this popular dating site!
Just looking for a quick answer? Check out the convenient Match FAQ at the end!
Match FAQ – The Answers You Need, At A Glance!
Should I sign up for Match?
Yes – if you're 30+ and seeking a long-term relationship. Since messaging requires a paid subscription, the singles you'll find tend to be invested in the dating process and serious about meeting someone.
Who uses Match?
Almost half of Match users are between 30 and 49 years old. Only 25% are younger than 30, so if you're in your 20s or looking for something more casual OkCupid or Tinder might be a better bet. Just over 25% are in 50+.
Is Match good for singles over 50?
Yes! Per Match's internal data, singles over 50 is the fastest growing portion of their user base.
How much does Match cost?
A premium membership starts around $42 for a single month, but you can get that price down to around $21 per month by investing in a 6-month subscription.
Match also has quite a few ala carte premium features, like Private Mode, that could add a few dollars to the monthly price.
Can I pay monthly on Match?
Yes, you can purchase a Match membership one month at a time. You can turn off the auto-renewal feature from the "Manage Subscription" tab on the "Account Settings" page.
Does Match gives refunds?
No, Match subscriptions are non-refundable.
Can non-subscribers read messages on Match?
Free users can't read or respond to messages, with one exception. As a premium member, you can purchase an "add on" feature called "Reply For Free" that will allow free users to read and respond to a message from a paid member.
Can you 'unlike' someone on Match?
When you're viewing your "likes" list, click on the "X" to remove them from this view. Or if you're on their profile page, simply tap "remove from search." This is a feature that's not available to free members.
Can you block someone on Match?
Yes – to block someone simply click on the "…" icon at the top of their profile, then select "Block". Match allows you to block up to 2,000 other members.
To unblock someone, you'll first need to login to the Match website. Match mobile currently doesn't have the unblock feature.
Click on the gear icon, select the "blocking" tab, check the box by the member you'd like to unblock, then click "unblock".
Can I hide my Match profile?
Yes – Match has a "private mode" that's available at an additional cost for paid members. When you're in Private Mode, your profile is hidden from users until you choose to communicate with them.
As a free member, you can make your profile public, or hide it entirely. To hide your Match profile, simply tap the profile icon, select "me" and choose "No One Can See You" in the Profile Visibility box.
To read more about how to use Match discreetly, check out these tips.
What is 'What If' on Match?
This feature can be found in the "Discover" section of the Match app, and it's designed to be a fun way to check out users who fit most, but not all of your search criteria. You'll be shown a random card like "What if… age was just a number?"
Tapping "Get Started" on the card will bring up profiles of people who don't meet your set age preference, or tap "Go Again" to see a different card.
Can I boost my Match profile?
Yes – each profile Boost will increase your profile's visibility for 60 minutes by putting it at the top of search results for daters in your area.
If you purchase them one at a time, a Match boost costs $3.99. But if you purchase them in packs of 10, the price drops to $2.49 each. Make sure your profile is boost-worthy by checking out these expert Match profile tips first!
How do I contact customer service?
Match's customer service is available by email, weekdays from 8 am to 5 pm CST. Click on the gear icon, select "Help" from the pull-down menu and then "Contact Us."
Who owns Match?
Match is one of the many dating sites and apps under the Match Group umbrella. Hinge, Tinder and OkCupid are also part of Match Group's portfolio.
One of the oldest and most popular dating sites, it was founded way back in 1995 by Gary Kremen, an inventor and entrepreneur.